09 May

An organised office is an efficient office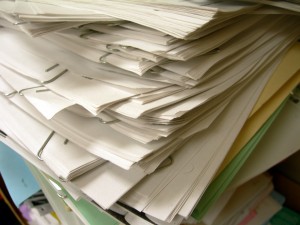 If you're a sole trader, or the owner of a small business, you'll know all about the many advantages, from flexible working hours, to the potential to work from home.
There are some disadvantages, of course, and we've already touched on some of them, such as loneliness and stress, in other blog posts. Here's one you might not have thought of though: the importance of staying organised.
This is a particular problem if you've come from a larger office with admin staff. Suddenly there's no-one but you to do everything, from keeping files tidy, watering plants, running a diary and making drinks.
If you're kept fully occupied running your business, it's tempting to ignore a messy desk and disorganised files, but your environment has a big effect on how efficiently you work.
Even if clients never come to your office, they'll still expect you to provide information quickly if they phone – and if you can't find what you need easily, it won't give a good impression. Spending time searching whenever you need something means the working day takes longer and is more stressful, and it won't help you come across as professional either.
It's well worth investing some time and effort in an organisation system, then it should only take a few minutes a day to keep everything running smoothly. Here are my tips.
Action 1: Get some space
Provide plenty of storage. Cupboards and filing cabinets give a neater impression than storage boxes or open shelving. Review your filing system – could documents be stored electronically, or outsourced to a storage company?
Action 2: Keep it clean
Operate a 'clean desk' policy at the end of each day. Separate work in progress into filing trays, and keep clutter to a minimum.
Action 3: Be a diary diva
Operate a central diary, whether it's paper-based or electronic. Transfer all appointments into it as soon as you can. Missing client meetings, or running late due to poor organisation skills, won't help establish you as trustworthy!
Action 4: Zone out
Split your office into 'zones' – i.e. a workspace, reference area, coffee making or breakout area. Move everything into the relevant space.
Action 5: Get a virtual administrator
Most Virtual PAs have their own businesses, and understand the importance of organisation. Whether you're looking for a helping hand to bring an office up to speed, or just need to outsource some daily admin tasks, such as running your diary or running a digital filing system, a Virtual PA provides all the benefits of your own admin assistant and great value for money. To find out more, call Pam Allen from PA Today in Crewe, Cheshire for a chat about how I can help.