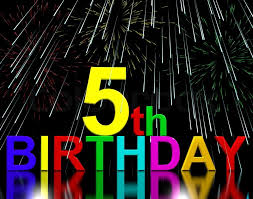 21 Dec

PA Today: Celebrating Five Years in Five Lessons

It's the time of year to celebrate, and this month we have something more to raise a glass of champagne to than the arrival of the guy in the big red suit, as December marks five years in business for PA Today.

Starting a business can be one of the most testing and rewarding experiences. In the last five years, we have helped lots of entrepreneurs to be more productive and successful, and we have loved every minute of it. From helping our clients to grow, by organizing their offices, creating and improving filing systems, managing projects and chasing debts we have done and learned a lot!

So we thought we'd share our five business insights with you.

Imperfect action is better than perfect inaction

Taking the step to put any of your dreams into reality, no matter your experience, can be overwhelming and scary. It may seem like everyone else is getting it right all the time and that you must as well.

You don't.

Nobody grows, as a person or as a business, by doing it perfectly the first time. We learn valuable lessons by feeling less than perfect or prepared, but taking the leap anyway.  Perfect will come in time – and if it doesn't, just keep 'doing'.

Know your numbers – have a great accountant

They say a good accountant can save you more money than they charge, but a great accountant can also be a trusted business advisor.

Take time to build this relationship, and don't be afraid to ask the silly questions. It will be one of the most rewarding relationships within your business success.

Grow your network to grow your business


Networking is a great way to meet potential clients and gain referrals.

Nurturing your networking builds not only your range of connections but gives you experience at promoting your business to anybody under both formal and informal circumstances.

The network you build can inspire you, help sell you to their connections and become invaluable in several parts of your life – you'll be thankful you got on so well with that emergency plumber at that networking meeting one day.

Value your reputation


Your reputation will precede you, so take care of it.  Take a moment to think about what people would say about your service when you're not in the room. Learn to shape it and never take it for granted.

Outsourcing

You cannot do it all yourself. If there is a task you don't relish, such as refreshing your social media, updating your computer, installing a new filing system or implementing your marketing plan, then outsource it. Your time is better spent concentrating on the things you do best.

That's exactly what we do, but also what we tackle for our clients. Call us on 07938 549876 and let us help you grow your business.